Fun Facts
Here are a few fun facts about our milk:
#1
Beau&Belle Milk is 100% made from fresh milk; this means no adding water to milk powder. Just directly from our happy cows
#2
Beau&Belle Milk is a good source of calcium, which is great news for your bones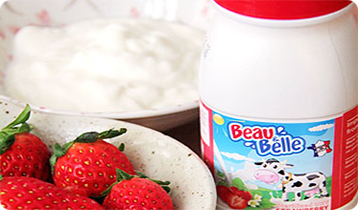 #3
We don't use preservatives in our milk; we pasteurize and use UHT (Ultra High Temperature) technology on our milk to kill nasty bacteria and keep it safe and fresh for you
#4
Beau&Belle's Cocoa Milk's cocoa content is one of the highest there is, with it being 2.2% of the drink
#5
Did you know that our Beau&Belle flavoured milk series uses carrageenans in our recipe? Carrageenans is a seaweed extract that is used in the food and beverage industry and is natural. 
It acts as a great stabilizer/emulsifier for our milk. 

This means no chemical stabilizers with weird numbers like 471,407 etc. All perfectly natural. If unshaken before drinking, carrageenans may cause some clumping at the bottom of the bottle. This is perfectly normal - just shake it like a polaroid before drinking and these clumps will disappear. All good :)